DVD's -- Order Now!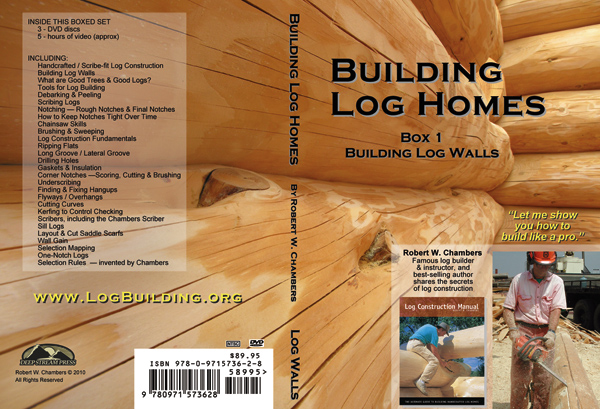 Building Log Homes — the video companion to my Log Construction Manual
Boxed Set 1 -- Building Log Walls
Boxed set includes: 3 DVD discs -- a total of 5 hours of video instruction
See the DVDs in Robert's Online Store

"My goal is to have the best how-to-build log home videos, and sell them at the lowest price. You can't beat that!"
Robert W. Chambers
---

Sample Clips from my DVDs
Corner Order
Butts & Tips

Audio quality of YouTube is bad.

The DVDs have great audio.

Get the Scriber Setting

Notching Skills
Cut Carve Brush

This clip had to be heavily edited for length to fit on YouTube.

On the DVD this chapter is much longer and more detailed.
What's in Boxed Set #1
3 DVDs ~ 5 hours of video
Log Wall Skills & Techniques
Scribing (marking where to notch logs), scoring, cutting, carving, and brushing corner notches, sill logs, cutting grooves, scribing and cutting flyways (overhangs), tools, what are good trees?, how to debark and peel logs, how to find the widest gap and set your scribers for the long groove, corner notch and flyways, how to snap chalklines, how to rip with a chainsaw, how to flatten logs with brushing and sweeping techniques, plumbing your scribers (and self-plumbing models), how to cut curves like saddle-scarfs (blazes, receivers), how to put logs onto the walls, the right way to line-up one-notch logs, sill log layout, how to use my selection "rules" to choose which of your logs to use next, drilling holes for electrical and through-bolts, kerfing logs to locate checking, how to organize the work so it is efficient and faster, and more . . .
Log Wall Fundamentals
Why we alternate butts & tips in each layer, average gain, selection maps, how to get the selection "Rules" for your logs, sill logs--the most important logs in your home, why saddle notches stay tight over time, how to use underscribing to ensure tight fits, how to use one-notch logs to save money (and logs!), the best chainsaw chains for each task, and more . . .
Professional Tips & Tricks of the Trade
Cutting backhanded, fast ways to get to the scribeline, keeping corners 90°, the best tools for the job,
and animations illustrating log-building fundamentals that have never been seen before anywhere !
"Learn to build like a pro. My DVD's will show you how."
Robert Chambers
---
"Without a doubt the finest instructional video I own - and I own quite a few. Within 15 minutes of plugging in the DVD you had engaged my full attention. I managed to finish all 5 hours in an already busy weekend. " John Boys
"My thanks and appreciation for the great education at your workshop. For me it truly was a milestone: one of those life-altering types of experiences. The workshop was all I could have hoped it to be: the quality and authority of instructors is tops, and lots of hands-on experience. " John C.
"Very informative - - I now feel I am up to speed with the log home industry!" Tom B., professional log builder"I have learned from the best. A great experience." Dave O."It was so fun, so interesting, and so exciting that the time flew by!" Olaf Edgar"Robert Chambers is the best teacher I have ever met." Chuck Kelly, professional log builder"I now have an excellent understanding of what goes into building a high quality handcrafted log home." Erik L."Robert is fantastic. He knows log building AND he can teach." Dave H."I showed everyone in my family's log home business the mitered truss and they all loved it. Then we built three trusses in three dfferent ways, and the mitered one was fastest and easiest. . . I enjoyed the class tremendously and we will be building better buildings because of it." Richard Musick, professional log builder"I count this among the best things I have done so far in my life." Neal M."There is not enough room on the evaluation form to tell you how impressed I am!" Vince V.
"It is obvious that Robert loves to teach and so it is a joy to learn from him. I honestly feel that he is one of, if not the best, teacher I have ever had the privilege of learning from." Bradley Bartels, professional builder
---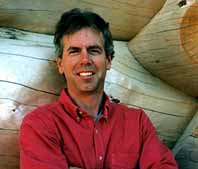 © Robert W. Chambers, 2013 --- photos and text


This page was updated January 2013